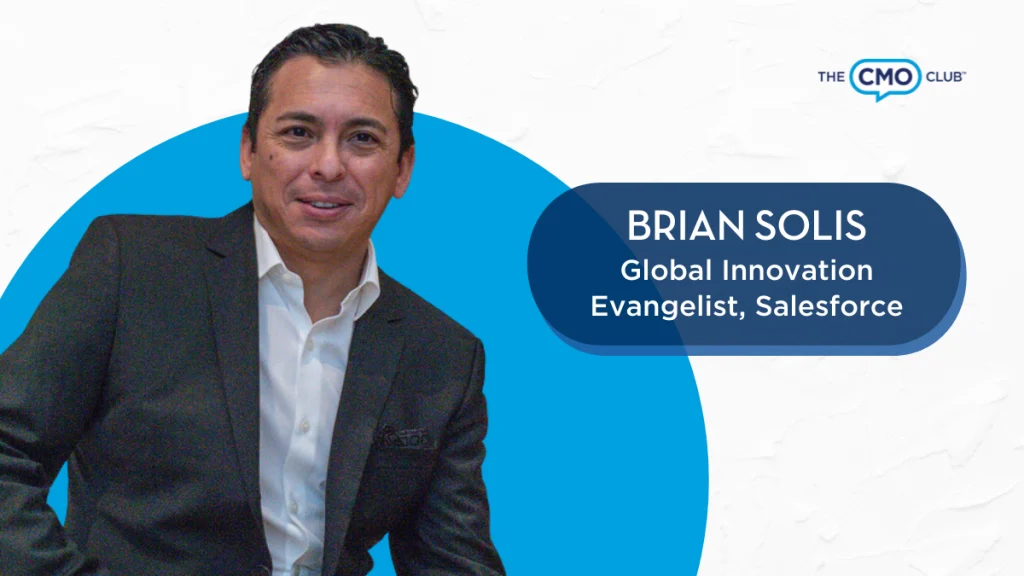 By Jessica Denny, The CMO Club
Brian Solis, Digital Anthropologist and Global Innovation Evangelist for Salesforce believes the pandemic fundamentally changed us all, calling it an epochal moment. During the 2021 CMO Club Innovation and Inspiration Summit, Brian shared how people are spending more time in the digital world than ever, but at the same time, they have stronger preferences about what they want from brands.
Customers want more than a transactional experience: they want to feel like brands are aligned with their values and feel understood. Companies that will thrive in this new environment will be the ones able to create what Solis calls "ignite moments"—those exceptional moments that will set your brand apart in customers' minds.
In response, Solis suggests that companies need to transition from focusing on customer experience and product experience to "the customer's experience" in a holistic sense. It may seem like a subtle change, but Solis argues the apostrophe makes all the difference.
By framing customer experience from the view of the customer's experience, we shift focus to the individual and their experience at all stages of interaction with a brand. Are you ready to transform your companies customer journey with a focus on #ignitemoments?
All we're doing is using technology to get closer to people, to understand them, and to show them we understand them. – Brian Solis
CUSTOMER EXPERIENCE VS THE CUSTOMER'S EXPERIENCE
The customer's experience is the sum of engagements a customer has with your organization in every touchpoint throughout their journey.
Shifting the focus to the customer's experience in a holistic way is an opportunity for CMOs to expand marketing to be integrated across the customer journey.
People remember exceptional experiences, both positive and negative. To build loyalty, you need to deliver more than just the expected outcome but deliver an exceptional experience.
CUSTOMERS WANT TO BE UNDERSTOOD
The pandemic drove both businesses and their customers further into the digital world and digital experiences. But digital experiences can often feel utilitarian and have less warmth.
66% expect businesses to understand their unique needs and expectations
68% expect brands to demonstrate empathy (more personal engagement)
76% expect consistent interactions across departments
84% of customers say the experience you provide is just as important as your product and services. Focus on building customer experience from the ground up in a way that is responsive and empathetic as well as delivers exceptional value.
For the last 50 or 60 years, we've used technology to get further away from people, to automate, to scale. This is the moment we can use technology to connect – Brian Solis
EXPERIENCE INNOVATION
To build a more humanized and individual experience, companies need to integrate data from across departments, but only 15% of companies have a single view of customer data and the organizational structure to use it.
Companies that can use data to transform the customer's experience from a 360-degree perspective will have a major advantage.
Ignite moments are created when you have customers' attention and you are able to convey empathy, but also to deliver value.
Brands that can effectively express "digital empathy" to their customers have the opportunity to build incredible customer relationships and loyalty.